BACK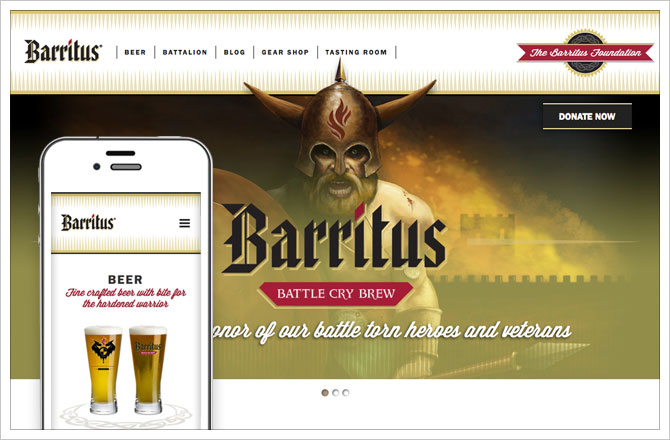 Brand and eCommerce Solution
Customer
Barritus Brewery — a great new brewery in Southern California — was formed with the stated mission to hire and give back to veterans. They also sell incredible pilsner and lager beer, a nod to the great American lagers of years past.
Objective
Provide a web and mobile eCommerce solution to help build the Barritus Brewery brand, from its online presence, design of its merchandise, to social media profile generation and maintenance.
Solution
The Barritus brand and mission is woven through every part of the company, beginning the name we conceived Barritus, which is Latin for "Battle Cry". Their Battle Cry Brew recipes are classic yet bold that bring out the warrior in all of us. Every sip of Battle Cry Brew benefits great military and veteran causes, providing much needed funding to help those in need. In fact, 10% of all brewery sales go directly to The Barritus Foundation. This includes beer, merchandise, everything. The Barritus Foundation is managed with zero overhead expenses by active and retired military service men and women, guaranteeing that 100% of all funds received get to the right places.
It was our job to make sure the brand and merchandise conveyed this mission, from warrior characters we created to symbols both modern and ancient.
The customer was delighted to team with a design and development partner that brought a multidisciplinary range of skills needed to implement their brand successfully. Our team provided brand design, UX design, production, eCommerce and social media profile development.